March Review
March felt smoother in some ways than the first few months of the year. The equinox had a wonderful intensity. I had to lay down a few times throughout the day just to balance the energies. I was feeling a lot of brain changes, some quite intense. I noticed occasional heart energies shifting and a general sense of strength anchoring. What I was shown was some of the changes that were occurring in the collective unconscious were drastic releases. From the human standpoint, these will manifest as courage. For some, it may go through a stage of chaos, but renewed harmony is the opportunity that chaos offers.
In the time of balance, which the equinox brings into focus, we recognize that the system of life survives through balance to imbalance to balance. Or harmony to chaos to harmony. It is as simple as your body unbalancing and rebalancing to take a step forward, thirst leading to hydrating, or an exhale leading to the next inhale. Of course not all imbalances are that simple. But as you strengthen through the simple ones, change becomes more manageable. This creates a core strength within you that sustains your harmony as you interact with life.
All that occurs on the world stage and directly in your life has the potential to evolve the human experience. As you live your life with profound acts of courage like loving and valuing yourself, choosing your creativity over fear, releasing obligations that stifle unnecessarily, interacting with the systems and people with integrity, compassion, and strength—you are shifting the flow of life from the foundation that builds it. Actions are then inspired from your empowered Love.
April Energies
We are evolving through an exciting time of conscious interaction with the subtle realms. They've always been there, but humanity has been more consciously interacting with the physical realm. It has some different rules than the subtle realm. This leads us into the energies of April.
April Ascension Energies are about Anchoring New Creation. Change is constant in life. We change all the time. The core difference is are we changing in ways that we truly want, or are we creating a new illusion that seems like change, but really repeats an unwanted pattern.
For example, leaving a job can be a fear response or a pattern of avoidance. It could also be a true change of a pattern. How do you know the difference? Leaving a relationship or starting a new relationship can be a repeat of an unwanted pattern, or it can be a true change. How do you know the difference?
To create something "new" you balance changing within and changing the external.
You must change the whole of you, not just your external circumstances.
The Fun of New Creation
Life wants you to thrive. As you thrive, Life thrives. Your creativity is a gift of Life changing through your expression. Life surrenders to you implicitly for you to create with your free will. As you evolve to incorporate the rules of the subtle and physical realms, you are integrating beyond the binds of the physical realm step by step.
There was a beautiful animal message with this month's video that pertains to this. As we were walking through Sedona to find a filming spot, I saw a coyote. I received a message that applies to these current energies.
"What seems stable is only an illusion. Remain gently focused on your path and changes are easily moved through."
The coyote energy (or totem) is often known as the trickster, because it teaches through experiential learning that things are not always what they seem. It builds internal strength, discernment, and an openness to fun by teaching you to adapt to life.
When you change deeply, your life changes deeply. When you repeat patterns, life repeats patterns.
Life Compels New Creation
A great way to observe what is offering real change is to begin to listen to your heart—listen to your desires, listen to your emotions. When you feel good, you're aligned with your desires. There may be actions and time before it manifests, there may be some unexpected steps and results or even dips into not feeling good. However, that is inconsequential because your vibrational resonance is already calibrated with your desire and you know its potential on a core level.
When you feel negative emotions about something, you're desiring something that you aren't aligned with. It's Life's way of saying readjust to shift your resonance so that you can align with your desires. Life won't do that shifting for you, but it is always helping you through it. How?
The natural pull of Life is Love. It is the binding force of Life. Love compels, it does not dominate. It supports and nurtures empowered interaction. As you honor the natural flow of Life, it begins to sustain through Love rather than fear and domination.
Life is compelling you to change your resonance, to change within, so that Life thrives through you and with you.
Whether something seems right or wrong/good or bad in a moment, the compelling component is what you observe to shift within. Observe your experiences and ask yourself, "What is compelling me? Why is it compelling me? What do I need to change within to align with my desires? What actions do I take to align with my desires? Am I balancing inner change and outer actions to create something truly "new."
Heart Living Anchors New Creation
There is nothing wrong with changing jobs from a place of avoidance, it will just continue compelling you to change. A new relationship that repeats an old pattern is just another opportunity to change. Your choice is whether you want to align with your desires of your new creation or not. It's just a choice. It requires a balance of changing from within and taking external steps.
Relax into those changes. As you nurture yourself through change, you allow the journey of life to support you because you have no binds of guilt or tension resisting your change.
When you are listening to your heart, you are changing from within. You are allowing the compelling of Love to lead your life. Heart living will move toward Love whether in a moment of pleasure or pain. You are compelled because it is worth the continued thriving of Life. Life continues to improve. Your loving focus amplifies your core truth of Love. You are so worth it!
Summary
April is a key time that is supporting us into Empowered Sovereignty. As we continue to align our focus with the heart and discover the path of our individual potentials, we create a new energy of interaction on Earth. The meek are inheriting the Earth. Meek is not weak, it is a deep strength that creates through compassion that nurtures All Life.
We are anchoring a new reality, not the same patterns repeating. It won't happen overnight. This is an ancient and universal process that is natural to us. Trust your heart more. You are divinity in human form. New Creation is compelling you with Love, and Love is who you are.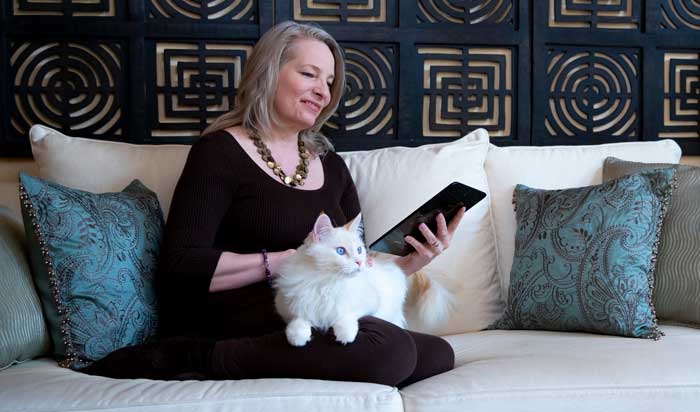 Stay Connected
Join Jamye's weekly newsletter for the latest Ascension updates and tools for empowerment. Receive a powerful, free audio download to amplify your mastery with the energies of 11:11.
Light Code
Healing
Oracle Deck
Meet Jamye
Jamye Price is an author, energy healer, channel, and teacher. Her unique energy healing modality, Crystalline Soul Healing, along with Light Language—are a powerful transformational experience.