June Review
June had the energy of resetting to the divine blueprint. It was a fascinating energy. I was doing the daily intent recommended by Areon, and it was interesting to observe feelings floating in the background of my awareness, though no conscious connection to them. Sometimes I felt stronger and sometimes I felt fear. Neither of them had a correlation to anything substantial in my life.
For instance, with the sense of strength, I didn't know how or what it really meant. I just marked the progress. I'm familiar with the pattern of things manifesting, sometimes they come in as an indicator that something is anchoring, then it seems to go away. This is the clue of manifestation, like faintly hearing music when you get closer to the concert hall. Also, our senses focus on what is new, then we seek homeostasis, so I don't worry if I don't constantly have that same feeling in the beginning.
With the feeling of fear, I observed if there was any detail around it. Was there any hint of a pattern, an experience that is specific, something I need to look at within myself? In this particular case, nothing came forward. I didn't get any psychic hits, repeating information from multiple sources, or random thoughts surfacing about the past or future. That indicates it's time to just allow it to be. Something is just moving and I don't need to participate with it by changing a pattern. Just allow.
Throughout the month, this process occurred with relative ease. Much movement, not a lot of action needed on my part except my lovely morning intent with my meditation. I heard similar accounts from those that were also focusing on this wave of supported change.
About mid-month I had an experience of an activation that was amplifying the connection of the physical body with the cosmic body. We are always connected, we are of the cosmos. The degree with which you are resonant to anchor or utilize that connection is what we are working on. That is part of the divine blueprint. We always were, are, and will be 'the divine blueprint.' The process of Ascension is actuating that connection from this unique physical experience. It's a natural process, though not always an easy process.
There were a few Ascension symptom patterns that I saw in June that may or may not apply to you. I saw an increase in teeth issues, as well as bladder issues. I'll cover the solstice energies and the empathic overwhelm of the Brexit vote below, as it relates to July energies.
July Energies
The energies of July are a Call to Connection. A few days before the solstice, I was shown that in July our throat chakra is continuing a powerful transformation into more whole connection (see November 2015 video for more details). I was shown for that we will be called to hold a space of Love and connection in July, focusing on elevating Life through Love. Not judgment, not a specific solution, just Love. Really amping up our participation with our choice for the future of humanity. The details…
Solstice Light Anchoring
During June's Light Language, I heard clearly that the power of "the word" is coming back, meaning our power to focus into manifestation is increasing. This power of the focus on Love, the Connection of all Life, is opening to a new level in July.
On the Solstice I was shown that the base of the skull and down the spine had received a powerful influx of Light. This continues the throat opening and may activate the kundalini in some. Woohoo! Remember, sometimes that will stir some uncomfortable nervous-system energy. Have compassion, nurturance, and healthy boundaries for yourself and any of those around you that are dealing with intense energies.
I felt so good on the solstice and a day or so after it. Until the Brexit vote. And I mean that with no political undertones at all, just an empath. Wow! The vote resulted in a lot of mental and emotional turmoil that was intense. Some electronics even started going awry. The energy was chaotic for many. I was surprised I felt the Brexit vote so strongly, I did even know that it had occurred that particular day until I checked the news after feeling so weird (I generally only dip a toe in news), but this is a perfect example of the July energies.
Empath Work
Humans are meant to be empathic. We define those that have no empathy as narcissistic, sociopathic, or even psychopathic. When you have no empathy, you have a challenge processing moral decisions. There are varying degrees of this, and people can be highly functional in our societies without empathy. Many CEOs and politicians have no empathy. That's the nice way of saying it. It is the root of much of our societal problems that many of the leaders are sociopathic.
Your empathy is actually a great strength. You have it because you are evolved enough to handle it. If needed, enhance your healthy boundaries to experience it as a strength, even though it is uncomfortable sometimes. Generally, when I have to deal with intense collective energies, I instinctively pull my energy field in and intensify and nurture within. I can't talk much, I have to sit or lay quietly. You might be different. You might need to move the energy and take a walk or exercise. You might feel the need to talk.
Find what works for you, and have multiple options like soothing music or exciting music, people, nature, animals, books, videos, etc. Support yourself into letting emotions/energies move through you as appropriate. Much of the time it is just your stuff you are moving, sometimes you'll have a resonance with a collective focus. I heard some great feedback from many of you on Facebook that you were feeling it and found ways to deal with it like meditating in your car at work, swimming in the ocean.
The weight of healing the world is not on your shoulders. We are a connected collective. There are times where you will feel the pull of intense energies, other times not. What you are resonant with, you will respond based on the choice of your Higher Self. It will have a mutually beneficial effect. That isn't always evident in the moment, it isn't always what you want it to be—but it is always worth it. Sometimes the benefit is just knowing that you are strong enough to participate with Life in the way that you are called in a moment. If you feel overwhelmed, ask that it be lightened (if appropriate) and also utilize your own ways of mitigating energy. Focus on your healthy boundaries and do some "healer, heal thyself" work if needed, too.
The Call to Connection
June helped us strengthen to a new level of Self as we reset into our natural (always there, yet anchoring in this experience) Divine Blueprint. Unity consciousness occurs with empowered individuals connecting. July is supporting you to focus outward from your ever-amplifying internal Love, into your empowered connection with Life. As I'm shown it, this will boost the pineal gland, expand the throat, and activate the heart coherence. This progression is exciting!
What are you called to connect with? What opportunities do you have for connection? It is always helpful to take steps in a direction and watch the response of the energy. Is there a charity you've been wanting to work with or start? Are you seeking more friend connections? Could you add some focus to your meditation that offers Love to others on an energetic level? Maybe you're interested in certain topics, can you focus on it with pure Love?
In July the "unprecedented support for change" is continuing, with a bit of a shift. This time is always about being an empowered, loving, sovereign strengthening the resonance of Love into a "new" connection with All Life. Now there is more support as you shine your Light into the world. It is time to focus more on your vision of heaven on Earth.
The passive force of Love does not dominate, it's a prayer, it's an offering.  Spend some (or more) time this month envisioning Love readily available to people instead of fear. Take your Loving Light everywhere with you. Into work. Into your home. Into stores. Into traffic. And most importantly, into your heart. As you Love yourself, you Love life. As you Love life, people sense it. Life begins to imitate your art of Love.
Summer-y :o)
This month enhances the energy of focusing intently on Love on Earth in the subtle realms, and taking steps to connect more with life. It won't all happen at once. Follow your heart into your path of connecting more with Life. The news outlets are filled with stories of tragedy, pain, fear, and bigotry in so many forms. In July, broadcast your Light LOUD AND PROUD. Hold healthy boundaries, nurture and Love yourself into a strength of Love that is palpable. Find compassion for those that don't yet know their strength within change.
Be the lighthouse that signals safe ground – a strong human being that Knows Love is powerful. Powerful enough to create real change. It starts within each of us. Light it up!
Happy July!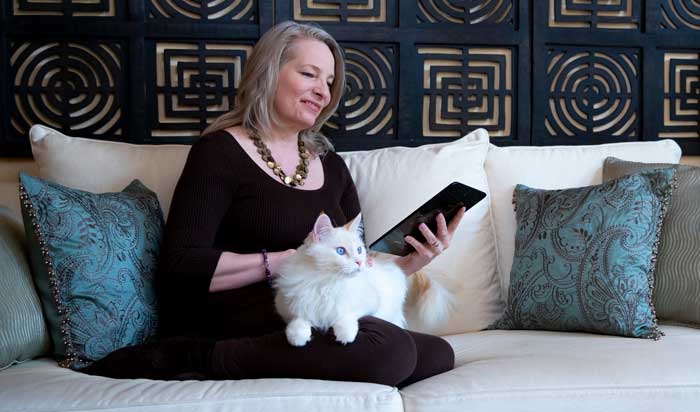 Stay Connected
Join Jamye's weekly newsletter for the latest Ascension updates and tools for empowerment. Receive a powerful, free audio download to amplify your mastery with the energies of 11:11.
Light Code
Healing
Oracle Deck
Meet Jamye
Jamye Price is an author, energy healer, channel, and teacher. Her unique energy healing modality, Crystalline Soul Healing, along with Light Language—are a powerful transformational experience.